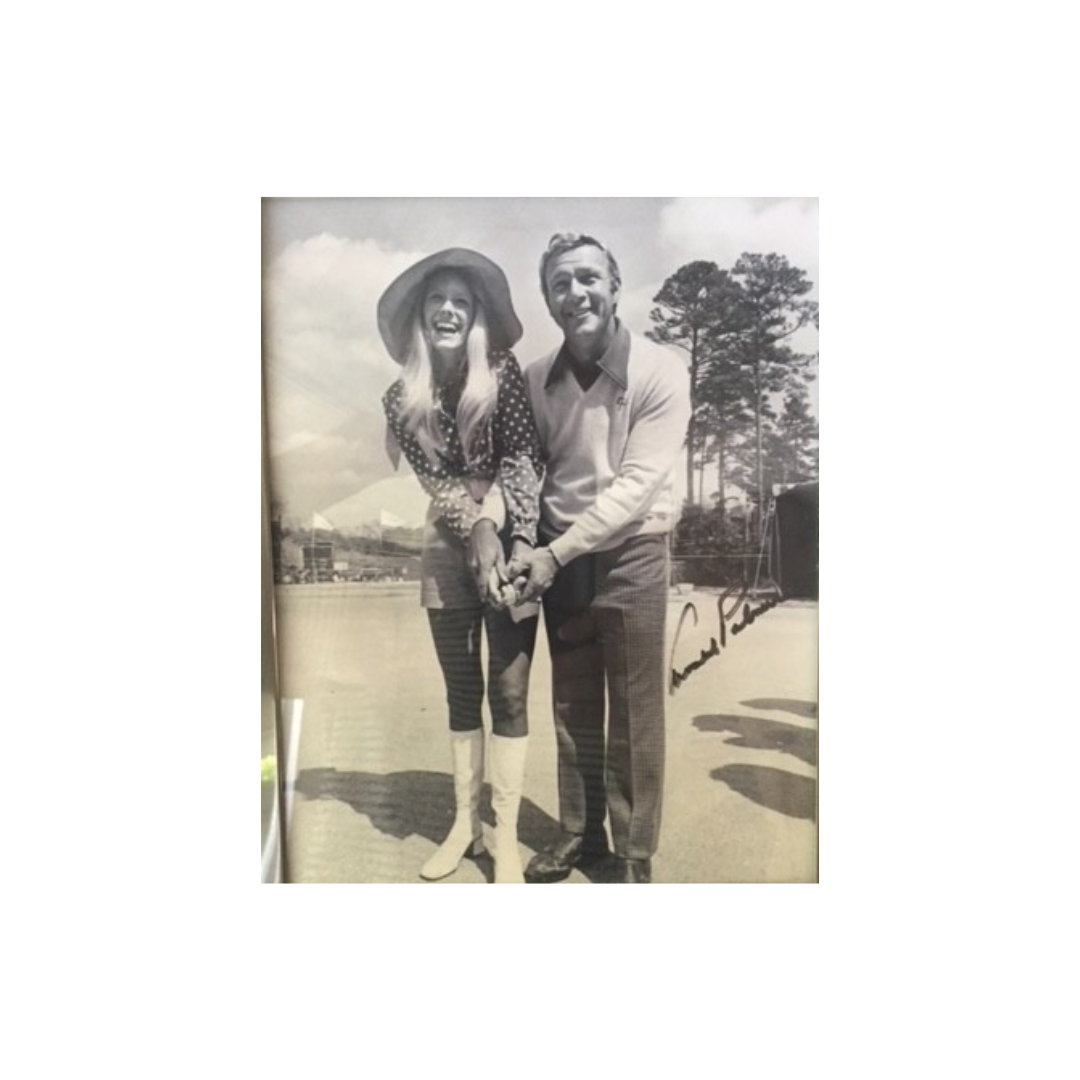 Today I had an appointment to deliver some gloves and do a glove fitting with a lady here in the desert.
That in itself is super cool…I love having the ability to offer concierge service to amazing women.
I was greeted by the most stunning lady, with an aura that was so welcoming and kind. I did not know this woman's history other than she was a LPGA professional from the 70's.
We sat and chatted about a bunch of topics and then, after her glove fitting, we were discussing her time on tour and somehow discussed her LPGA nickname Honey Bear, that she noted had been painted on the front of her VW camper van. And…..that nickname was actually given to her by Arnold Palmer. Are you kidding me? Too cool!!
Oh my gosh, you all know that I am so the old school Hollywood type of gal, and the story she was telling me was riveting….and look at this photo!
I will summarize best as I can…..but, at the beginning of her professional career, there was a PGA event being held where she lived (I can't remember those specifics) and she applied to be a hostess for the event. 9 ladies were chosen, 8 of which were Miss NY or other pageant winners and herself….the only one that was an actual golfer.
She got her choice of players to chauffer….so off to the airport she went to pick up Arnold Palmer and his pilot.
When they got to the course, Arnie said he would give her a putting lesson, which she surely did not turn down. The photographers were all over it and were asking Arnie who this gorgeous lady was and he said HB Duntz, they all asked what HB stood for, and Arnie's reply was quick…..Honey Bear. Arnie then stated, the PGA tour has a Golden Bear, and the LPGA tour has a Honey Bear!
HB played the tour from 1975 to 1985 and has been giving and teaching in the Coachella Valley since then and has been honored with many distinguishing awards for her teaching. She has started extremely successful camps and golf programs over the years and is dedicated to teaching and also a firm advocate of getting customized gear.
I will say, the fact that she loves the quality, fit and feel of our gloves (Elongated Large fit her perfectly) after receiving free gloves for all of her professional career, feels awesome, but more than that, I am so grateful to have met another amazing woman in the industry that truly has made a difference. She has changed the game of golf.
Helen Beth Duntz, is also known as HB MacArthur, and I am grateful to have made her acquaintance today.
Today was a really great day.
#WomenInTheGolfIndustry #LPGAInstructor #HBMacArthur #ArnoldPalmer #GloveLove #WomenEmpoweringWomen #LadyGolfer #WomenWithDrive #GolfChannel #LPGA #PGA #NailedGolf #GlovesMatter #GloveFitting #GolfGloves #Gratitude